My friend Rach..............is an amazing woman! She had the best sense of humor, a fabulous smile, and EVERYONE wanted to be her friend. She had the certain something that just made you want to be around her. I wouldnt say she was the Life of a Party, but she could make a party out of anything! That was just her way, she made everyone feel special!




Some of my most favorite moments were just me and Rach...driving of course...us talking, singing, and lovin life! It was our special time, those drives. Catching up in a way we didnt usually get to. Dont get me wrong, I loved all the times we were ALL together, but those car trips, that was our time! Passing out cards, crazy detours, it was a blast. Telling people half the stuff that was funny to us....most of the time it didn't even make sense to others!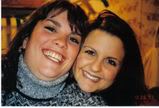 Ive known Rachel since the sixth grade. Like most of my friends, I have known them since elementary or Jr High school. Pretty cool. We experienced almost everything together! Strack Speech & Drama, first day of high school, first crush, drivers license, parties, going to college, first love, first heartbreak, true love....When Rach left us, we had known each other for almost 20 years!




And now tomorrow, it will be a year since she left. Truly, not a day goes by that I don't think about her in some way at least once. Some days it feels like just yesterday that I got that call for Al. We went up to her apartment to get some of her things. I kept waiting for her to walk through the front door and yell at us for messing with her stuff! But she wasn't coming back. This week has been hard. I have been moody and emotional. Even a year later, I am still angry. I am mad for what she missed in life, and in turn her parents too! I wonder what would have been going on as she would be approaching her 1 year wedding anniversary...would we be pregnant together? Would she and Rodney have bought a house together and had a goat in the yard for Kari? Could we ever convince her to move back to Houston to raise our kids together?? And then I get sad selfishly for what my life misses without her here...our phone talks, our weekends together-reliving memories, her being here for the birth of my first child...I feel cheated.

Bu life goes on. That's the hard part. I was in a tough place last year at this time, still struggling to get pregnant, frustrated. And now, a year later, I have my miracle growing inside me (which I truly think she helped me out on, our gaurdian angel). We have had 2 babies born, another due any day now, a wedding., and a couple more babies on the way and hopefully a few more soon...There are so many things to be thankful for!! My only wish is that she was here to experience these things with us. I know she is in spirit though, which I guess has to be enough for now...

Rach, I miss you. Know we are always thinking of you...I know you are gone, but you are never forgotten. Come visit me sometime in dreamland, we need to catch up! I love you sister!!